Company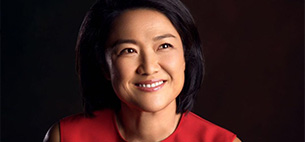 Co-founder,SOHO China Ltd.
Xin(Shynn) ZHANG
SOHO China Co-Founder Zhang Xin is one of China's most celebrated women entrepreneurs. Since co-founding SOHO China in 1995, she has led the company to become one of country's most prolific developers of office property with 54 million square feet of projects in Beijing and Shanghai. Acclaimed as the" woman who built Beijing", Xin is renowned for her daring and iconic collaborations with international architects that have transformed Chinese skylines.
Born in Beijing in 1965, Xin moved to Hong Kong at age 14, where she labored as a factory girl for five years. At 19, Xin ventured to the UK where she earned a Bachelor's degree in Economics from the University of Sussex and a Master's degree in Development Economics from Cambridge University. Education served as a springboard to launch a career in investment banking with Goldman Sachs.
Xin's rags-to-riches story embodies the rise of China's entrepreneurship, making her a celebrity CEO at home and a sought after Chinese voice on the international stage. Active on Weibo, China's" twitter", Xin frequently shares her views on business, entrepreneurship and fitness with nearly 10 million followers. In 2002, she was awarded a special prize at the 8th la Biennale di Venezia for Commune by the Great Wall, a private collection of architecture featuring the works of 12 Asian architects.
In 2005, Xin and her husband Pan Shiyi established the SOHO China Foundation to support education focused initiatives in China. In 2014, the Foundation launched the SOHO China Scholarships to provide financial aid to Chinese undergraduate students at leading international universities. To date the SOHO China Scholarships have been established at Harvard, Yale, and the University of Chicago, and support approximately 50 Chinese students per year.
Xin serves as Trustee of MoMA, and a Trustee of the Asia Business Council. She is also a Member of World Economic Forum, Davos, and Member of the Harvard Global Advisory Council. Xin holds an honorary Doctor of Laws from the University of Sussex and has served as visiting fellow at the Harvard Kennedy School. Recognized for their commitment to sustainability, Xin and Pan Shiyi are members of the Breakthrough Energy Coalition spearheaded by Bill Gates that invests in cutting-edge research and development to enable a zero emission energy future.
---
Select Awards and Recognition
2017 February
Named among 2017 China's Most Outstanding Business Women by China's Forbes
2016 April
Listed among the World's Most Influential Working Mothers by 'Working Mother' magazine.
2015 December
Joined the Breakthrough Energy Coalition at Bill Gates's invitation.
2014 December
Named "Philanthropy Faces of the Year" by China's "People" magazine.
2013 & 2014
Named among the '50 Most Powerful Women in Business' by Fortune magazine;
2013
Named among the '25 Powerful Chinese Women in Business' by Fortune magazine;
2013
Received honorary Doctor of Laws from University of Sussex;
2013
Honored among "48 Asia's Heroes of Philanthropy" by Forbes magazine;
2013
Named 'The World's Most Powerful Female Entrepreneurs' by Forbes magazine;
2013
Named "Asia's Women In The Mix, 2013: The Year's Top 50 for Achievement In Business" by Forbes magazine;
2012
present Teach for China, Chair of the Board;
2008, 2011 and 2012
Named among "The World's 100 Most Powerful Women" by Forbes magazine;
2012
Recognized along with husband Pan Shiyi as one of the "World's 15 Most Powerful Couples 2012" by Forbes;
2011
Named among the "The International Power 50" of the "Most Powerful Women", by Fortune magazine;
2011
Honored with the Blue Cloud Award by the China Institute in America;
2009
Named one of "China Top 10 Career Women Role Models in 2009" by the All-China;
March, 2010
Women's Federation, China Sun Media Group, Sina.com and Hunan TV;
September 2009
November 2010 and November 2011 Selected as one of the "Top 50 Women in World Business" by Financial Times newspaper;
March 2009
Included among "Ten Billionaire Women We Admire" by Forbes magazine;
2007
Selected as one of "Ten Women to Watch in Asia" by the Wall Street Journal;
2005-present
Selected by World Economic Forum as a Young Global Leader;
2005-present
Harvard University, Global Advisory Council, Member;
2005-2012
Asia Business Council, Member;
2005-2010
China Institute in America, Trustee;
2004
Received Business Week´s Stars of Asia Award;
2004
Received Montblanc de la Culture Arts Patronage Award;
2003
Named Asia´s Under-50 Movers and Shakers by Asia Inc, with Pan Shiyi;
September 2002
Honored as an individual patron of architectural works at the 8th la Biennale di Venezia;
2002 & 2003
Elected 'Young Leader' by National Committee of US-China Relations;
2002
Voted among "Most Influential Figures in the Age of China´s Transition" by foremost China business newspaper Economic Observer;
---
Media Commentary
"I have known Xin(Shynn) ZHANG for many years and share her vision to improve the built environment. She welcomes innovative and holds the highest respect for the integrity of an architect's work. The construction is a man's world, yet she has succeeded through her hard work and determination."

— Architect Zaha Hadid on Porter Magazine
"They [Xin(Shynn) ZHANG & Pan Shiyi] have both their vociferous critics and staunch fans, but whichever side of the fence you fall on, it is undeniable that their SOHO home-office model and their daring approach to architecture has made a major impact on Beijing´s luxury housing market and on lifestyles in the city."

— South China Morning Post
"[Pan Shiyi and Xin(Shynn) ZHANG's] love story was a fairy tale that combined Pan's grassroots as a native-born son of humble beginnings who became involved in developing modern housing projects…and Zhang's smarts and worldliness, drawn from her years of overseas experiences."

— Forbes.com
"Xin(Shynn) ZHANG and her husband, Pan Shiyi…are among the country's most outspoken defenders of the urban habitat. It is Zhang's attempt, as she puts it, 'to advocate urbanism to the market, to create a neighborhood rather than just a compound."

— Time Magazine
"The company has made a name for itself by breaking with the drab proletarian past and infusing China's modern architecture scene with an audacious, offbeat energy. Zhang has been dubbed a "young urban visionary" and a "dynamic trendsetter"."

— Daily Telegraph Magazine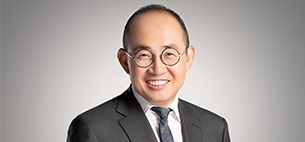 SOHO China Ltd. Co-Founder
Pan Shiyi
Since the 1980s, SOHO China Co-Founder Pan Shiyi has been deeply engaged in the real estate industry and is recognized for his role in shaping China's industry landscape. Pan's entrepreneurial acumen and flair for marketing led to an innovative business model that quickly propelled SOHO China, the Company he co-founded with his wife Ms. Zhang Xin in 1995, to become one of the largest prime office developers in China. SOHO China developments, featuring the avant-garde architecture of internationally acclaimed architects have transformed the skylines of Beijing and Shanghai.
In the eyes of many Chinese, Pan Shiyi's life journey, from his humble rural beginning to his victorious entrepreneurial success, is a quintessential modern China rags to riches story. Pan has been an especially impactful online influencer and currently has nearly 19 million followers on Sina Weibo, the Chinese version of Twitter. Pan's influence extends well beyond property development and urbanization. He is a close observer and regular commentator on environmental issues, and he was instrumental in raising public awareness for PM 2.5 pollution in China via his social media profile. In 2015, Mr. Pan and Ms. Zhang joined the Breakthrough Energy Coalition led by Mr. Bill Gates to fund development of clean energy technology.
Owing his business success to China's economic reform and opening, Pan is strongly committed to giving back to the society through philanthropy. In 2005, he and Ms. Zhang set up the SOHO China Foundation to support underprivileged families through various education initiatives. In 2014, the Foundation launched the SOHO China Scholarships, providing financial aid for Chinese students at leading international universities. Gift agreements have been signed with Harvard University, Yale University and University of Chicago.
Mr. Pan has served as visiting fellow at the Harvard Kennedy School, and also is a member of the Special Olympics Senior Advisors Committee for the East Asia region.
---
Select Awards and Recognition
2017
Joined the Harvard Kennedy School as a Senior Fellow.
2016
Named among Yicai Magazine's "Top 50 Most Innovative Chinese Business People".
2015
Joined the Special Olympics Senior Advisors Committee for the East Asia region.
2014
Selected as "The Best-Spirited Figure In The Real Estate Industry" by NetEase.
2013
Given "The Judging Committee's Special Award" at the Fifth SEE-TNC Ecology Award.
2013
Honored "The Most Socially Responsible Person in Real Estate" by Tencent.
2011
Selected as 'The Most Influential Person in the Real Estate Industry in 2011 in China' by Sina's Leju.com
2010
Selected as '2009 Real Estate Person of the Year' by Sina.com
2008
Honored as 'China Real Estate Top 10 Individual of All Time' at the 10th Annual China International Real Estate & Arch-tech Fair (CIHAF) Awards
2008
Honored as Ernst & Young Entrepreneur of the Year China 2008 as winner of Real Estate category
2007
Selected as deputy to Beijng's People's Congress
2007
Honored as a 'Model Income Tax Payer' by the Beijing Taxation Administration Bureau
Since 2002
Boao Forum for Asia, speaker and moderator
2006
Asia Business Council, member
2003 - 2006
Named one of the 'Top Ten Influential Figures in the Real Estate Industry' in China by Sina.com
2005
Named one of '25 Most Influential Business Leaders in China,' FORTUNE (China)
2003 - 2004
World Economic Forum, speaker
2004
Asia Leadership Forum, speaker
2003
Named Asia ́s Under-50 Movers and Shakers by Asia Inc, along with Zhang Xin
---
Publications
What I Took a Life to Find (2008)
Childhood Candy is Sweet (2008, Published in Taiwan)
Pan Shiyis Blog (2005)
Chop Suey (2004)
Go West 25o, Photo Album (2003)
The Teacup Is Full, Collections of Essays (2001)
Complain About Pan Shiyi, Criticize SOHO New Town (2001)
---
Media Commentary
"Pan Shiyi is a star both inside and outside the world of real estate. A certain charm enables him to achieve success in all his endeavors, no matter the area, whether it be the SOHO concept, acting in movies, publishing, or TV hosting. The more active he is, the more in fashion he becomes. At the same time, his main avocation is crystal clear, a series of SOHO-branded buildings famous in Beijing, which have ranked at the top of Beijing's best-selling list for years."

— Huaxia.com
"In the world of Chinese real estate, Pan Shiyi is undoubtedly another species. Again and again, he finds himself in a whirlpool of controversy, rarely playing the hand dealt to him in the 'common-sensical' manner… Every single one of Pan Shiyi's architectural masterpieces has become a landmark, ushering in a new wave of architectural innovation into the city. Based on this unique understanding of business, he does not naively pursue scale and volume, rather focusing on the long-term value of architecture and stressing doing Chinese, contemporary architecture. Therefore all the projects he develops have been unprecedented commercial successes."

— People's Daily
"Mr Pan is a sort of model worker for the new entrepreneur in China - a Lei Feng of the capitalist era, if you will."

— South China Morning Post
"Everyone talks about how China has such a rich history,´ says Pan. ´But I want to show that the buildings we construct today can have a future too.´ Already he has taken the novel step of noting the buildings near his site and adapting his blueprints to create a sense of coherence in the city center."

— Time Magazine