In the first part of our China architecture guide, we round up 10 of the most significant contemporary buildings in Beijing, including works by MAD, Zaha Hadid Architects, OMA and Herzog & de Meuron.
Beijing is China's capital city, a metropolis home to some 22 million people and the nation's political and cultural centre.
It is steeped in millennia of history, from the ancient and beautiful Forbidden City to the Tiananmen Square plaza.
In recent years – particularly since the city played host to the 2008 Olympic Games – Beijing has become well-known for a series of ambitious and outlandish architecture projects.
National Grand Theatre, 2007, by Paul Andreu
Among the earliest of Beijing's new landmarks to emerge in the past 15 years was the National Grand Theatre.
Designed by French architect Paul Andreu, the theatre is a huge dome in the middle of a lake next to the Chinese government's seat of power – the Great Hall of the People.
It houses three theatres inside the huge 149,500 square-metre dome, which is the largest complex of its type in Asia.
Beijing National Stadium, 2008, by Herzog & de Meuron
In many parts of the world, the Beijing Olympics in 2008 put the city squarely on the global map. The centrepiece of the Games was its distinctive National Stadium, better known as the Bird's Nest due to its steel lattice envelope.
The 80,000-seater arena was designed by Swiss studio Herzog & de Meuron in collaboration with Chinese artist Ai Weiwei.
More recently it hosted the opening and closing ceremonies for the Beijing 2022 Winter Olympics, as well as the accompanying Paralympic Winter Games.
CCTV Headquarters, 2012, by OMA
One of the Beijing skyline's most recognisable buildings is the irregularly shaped China Central Television (CCTV) Headquarters, designed by Dutch practice OMA.
Its facade was finished in time for the 2008 Olympics, but the building did not fully open until 2012 after construction was delayed by a fire.
OMA's famous founder Rem Koolhaas defended the "very serious building" in an interview with Dezeen following Chinese president Xi Jinping's declaration that he had had enough of "weird architecture".
Galaxy Soho, 2012, by Zaha Hadid Architects
London-based firm Zaha Hadid Architects designed this 330,000-square-metre retail, office and entertainment complex for real estate megadeveloper China Soho – a clear marker of Beijing's increasingly cosmopolitan and commercial ambitions.
Completed in 2012, it is made up of four domed structures fused together by bridges and platforms between curving floor plates, surrounding a series of courtyards.
Phoenix International Media Center, 2016, by BIAD UFO
President Xi's criticisms did not signal an immediate end to unusually shaped buildings in the Chinese capital, as demonstrated by the Phoenix International Media Center, which opened in 2016.
The Beijing Institute of Architectural Design and Un-Forbidden (BIAD UFO), which designed the ring-shaped building as the headquarters of a broadcasting company, compared its twisted form to a Möbius strip.
Chaoyang Park Plaza, 2017, by MAD
The 120-metre-tall mountainlike glass volumes of Chaoyang Park Plaza were designed by Beijing architecture studio MAD and completed in 2017. The design was intended to reference the lakes, hills and stones depicted in traditional Chinese shan shui scenic paintings.
For some, it signalled a shift away from outrageous buildings towards a more understated approach to major architecture projects.
"Ridges and valleys define the shape of the exterior glass facade as if the natural forces of erosion wore down the tower into a few thin lines," said MAD.
Guardian Art Center, 2018, by Ole Scheeren
Not dissimilarly, the Guardian Art Center has been touted as a model for how Chinese architecture can be both contemporary and respectful of history with its small ground-level blocks matching the scale of the hutong courtyard houses traditional in Beijing.
Architect Ole Scheeren, who worked alongside Koolhaas on the CCTV Headquarters, unveiled his design for the art center not long after President Xi's comments about "weird architecture".
"This is an important statement vis-a-vis architecture in general in China at this point, to not only present the glaring and new, but to find ways to address a sense of historic continuity without falling into historicising," Scheeren told Dezeen in 2018.
Leeza Soho, 2019, by Zaha Hadid Architects
Turning to the more recent features to hit Beijing's skyline the 45-storey Leeza Soho skyscraper contains the world's tallest atrium at its centre. It is another Zaha Hadid project for China Soho.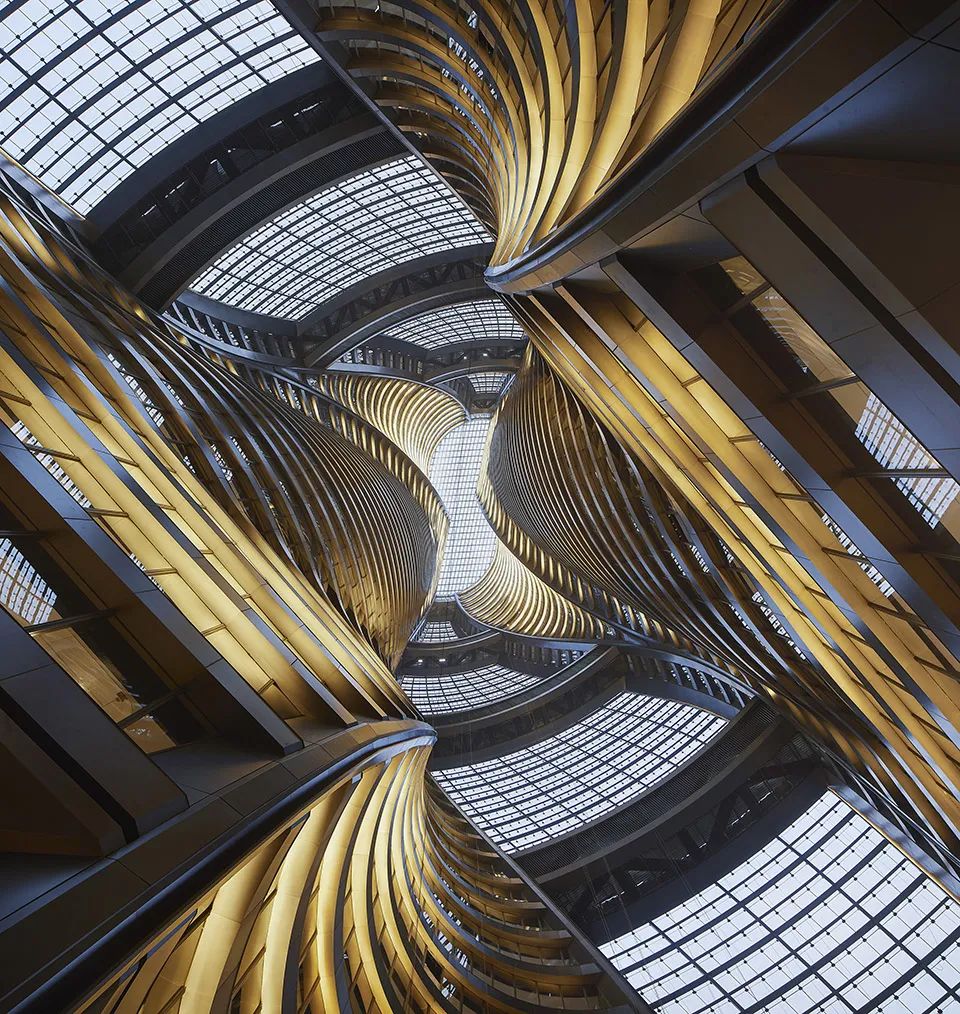 The tower straddles an underground subway service tunnel, leading the architecture studio to divide it into two halves on either side of a 194-metre-high void.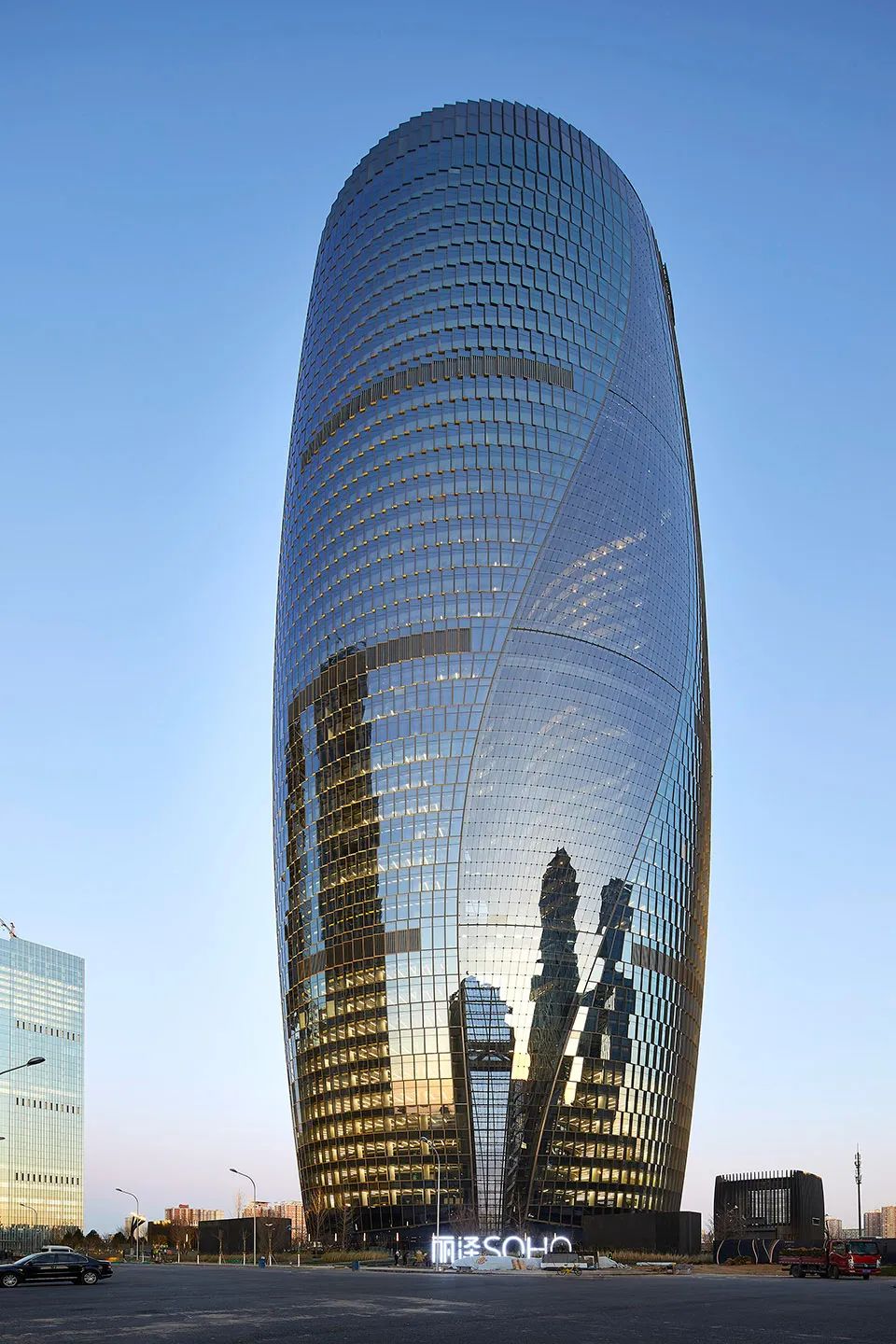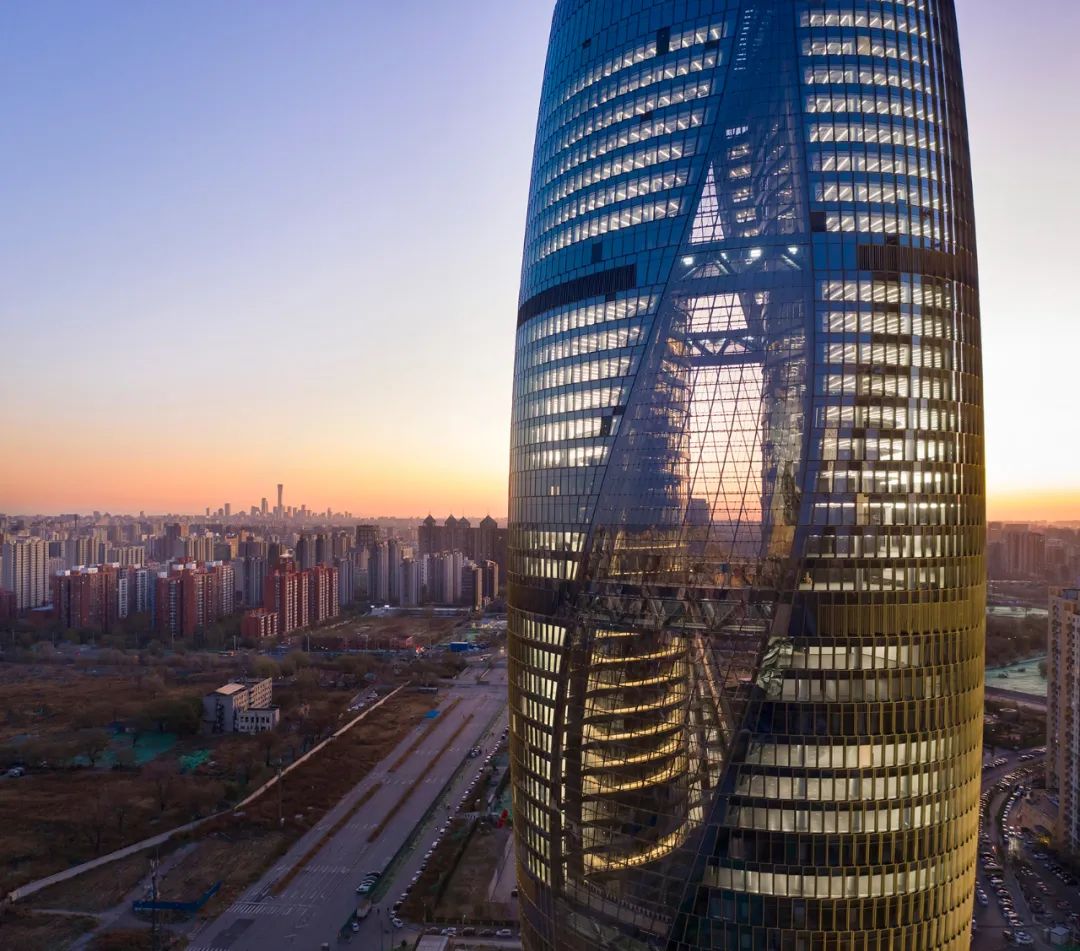 CITIC Tower, 2019, by KPF
CITIC Tower, more popularly called China Zun, is Beijing's tallest skyscraper at 528-metres tall, and the fifth-tallest building in China.
Designed by American firm Kohn Pedersen Fox (KPF) based on a concept by Farrells, the building was intended to form the centrepiece for Beijing's new central business district.
Its shape – wider at the top and bottom than in the middle – is supposedly based on the form of a zun, a type of ceremonial vessel dating back to the Bronze Age.
Beijing Daxing International Airport, 2019, by Zaha Hadid Architects
The third Zaha Hadid Architects project on this list is the starfish-shaped terminal building at Beijing Daxing International Airport, which was completed in 2019.
Designed alongside airport specialist ADPI, it was intended to be as compact as possible with the check-in island, security desks and retail area all arranged inside the central area.