News & Media
SOHO China Announces 2017 Annual Results
Rental Occupancy Reaches 97%, Net Profit Up 420%, SOHO 3Q Rapidly Expands Nationwide
Turnover of approximately RMB 1.96 billion, up approximately 24% YoY; Net Profit of approximately RMB 4.73 billion, up 420% YoY.
Rental income of approximately RMB1.669 billion, up 11% YoY; Leasing gross profit margin approximately 80.5%, up from 79.7% in 2016; SOHO Tianshan Plaza began leasing in 2017 and was 64% leased by end of 2017, all other properties achieved average occupancy of approximately 97%.
At the end of 2017, the average occupancy of SOHO 3Q centers in operation was 87%. The Group currently owns 26 SOHO 3Q Centers in Beijing, Shanghai, Hangzhou, Shenzhen and Nanjing with approximately 26,000 seats, 2018 will be a year for continued domestic expansion.
At the end of 2017, Net debt to equity attributable to shareholders approximately 51%, the cost of debt financing dropped to about 4.1%.
In 2017, the Company disposed of Shanghai properties Hongkou SOHO and Sky SOHO, with the agreed asset prices of RMB3.573 billion and RMB5.008 billion, which were 53% and 85% over project's cost, and 3.7% and 7.9% over project's revalued book value, respectively.
(2018, March 20, Hong Kong) SOHO China Limited (Hereafter referred to as "SOHO China" or the "Company", Stock Code: HK410) announces today the Company's audited consolidated annual results.
In 2017, SOHO China achieved turnover of approximately RMB 1.963 billion, up 24% year over year; rental gross profit margin of approximately 80.5%; and net profit of approximately RMB 4.733 billion, up 420% year over year. In 2017, the shareholders and the Board approved special dividends of RMB 0.346 and RMB 0.575 on September 27 and November 15 respectively. The Board did not recommend the declaration of final dividend for the year ended 31 December 2017.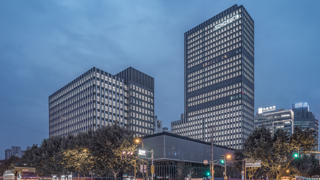 In 2017, China's economy saw a moderate and improved performance and Grade A offices in Beijing and Shanghai have continuously exhibited stable rental, while vacancy rates have remained at a relatively historic low. In this environment, SOHO China gradually developed asset management business model for each individual project to improve its leasing quality and efficiency. As a result, each project has seen the overall occupancy and rental levels steadily rise, and the Company achieved rental income of approximately RMB 1.669 billion. SOHO Tianshan Plaza, which launched for leasing in 2017, achieved occupancy of 64% while the average occupancy rate for the Company's other rental properties reached an average of 97% at the end of 2017. At present, SOHO China has two projects under construction, Leeza SOHO in Beijing and Gubei SOHO in Shanghai. The investment property portfolio is expected to be fully completed by mid-2019, by which point the Company will hold 1.4 million square meters of prime office property in Beijing and Shanghai. In the foreseeable future, the asset management model will bring the Company's property leasing business even more vitality, mature properties will maintain high occupancy, and upon completion, new projects will add more GFA to lease, contributing to SOHO China's further rental growth.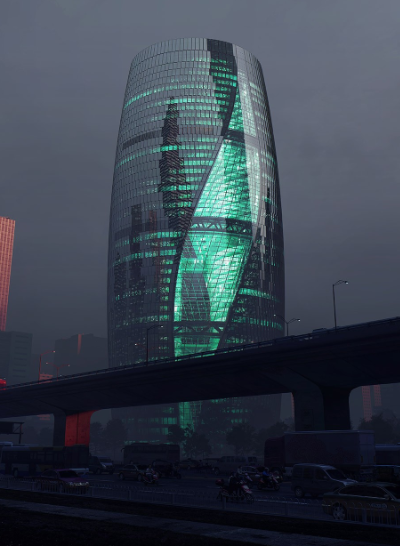 Over the last year, the overall market environment remained unchanged with prime assets continuing to be valued high, and rental returns low. Adhering to the principle of buy low sell high, and after the Company's successful sale of SOHO Century Plaza in 2016, the company achieved the successful RMB 3.573 billion sale of Hongkou SOHO and RMB 5.008 billion sale of Sky SOHO in 2017 by equity transfer. The agreed asset prices exceeded the project's cost by approximately 53% and 85%, and exceeded the project's revalued book value by approximately 3.7% and 7.9% respectively, with gross capitalization rates of approximately 3.6%. Both Hongkou SOHO and Sky SOHO were fully leased and in mature operation at the time of sale. The sale of both properties once again proves to the market the high quality, high liquidity, and high value of SOHO China's investment properties.
As the traditional office leasing business reaches maturity, SOHO China's co-working office product, SOHO 3Q, has accumulated extensive operational experience over the last two years, developing a comprehensive operating model in preparation for large-scale expansion. In August 2017, SOHO 3Q embarked on domestic expansion beyond Beijing and Shanghai. At present, new SOHO 3Q centers in Hangzhou, Nanjing, Shenzhen and other cities have already been signed, with a total of 26 centers and over 26,000 seats. By the end of 2018, the number of seats is targeted to be doubled.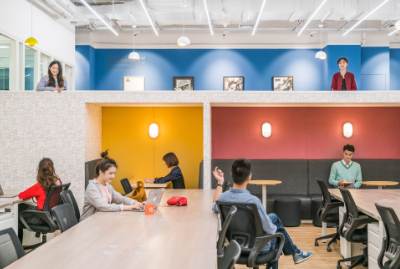 SOHO China's confidence in the co-working office market was always based on high demand in the market. Currently SOHO 3Q has an average occupancy of 87% with tenants coming from thriving and rapidly growing sectors including IT, education, finance, consulting services, and media and culture. SOHO 3Q not only serves entrepreneurs and startups, but also provides office to companies of the future. Since launching two years ago, SOHO 3Q has leased to over 4,200 entrepreneurs and over 70,000 users. The advancement of the Internet information technology has revolutionized the way businesses work. Co-working office is the solution that accommodates modern office demand and similarly, SOHO 3Q has become the engine for SOHO China's future growth.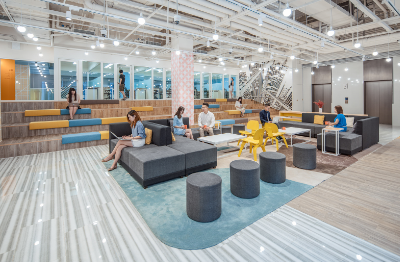 SOHO China Chairman Pan Shiyi says, "Profit and asset value growth are the two indicators of a public company's health, but what's an even more important indicator is the amount of service provided to the greater environment, and the creation of products. Over one million office workers and businessmen work at SOHO China's 22 projects across Beijing and Shanghai. We provide them with purified, filtered air and the most efficient mobile networks. SOHO 3Q employs the concept co-working office and an innovative economic model to provide office space and a development platform that caters to China's vibrant and rapidly growing businesses. We strive to promote social progress and serve the community through fulfilling the needs of the people we serve."

Further questions, please contact:

Ashleigh Au
Tel:+1-(647)-501-5069
Email:ashleighau@sohochina.com

Linran Yang
Tel: (86) 10 5878 8598
Email:yanglinran@sohochina.com