News & Media
SOHO China Foundation Signs Scholarship Gift Agreement with Yale University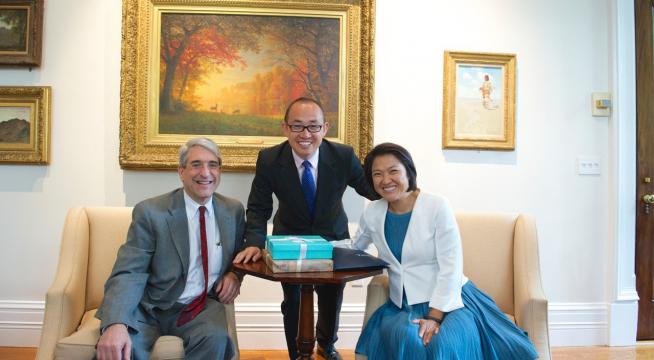 SOHO China President Pan Shiyi, CEO Zhang Xin and Yale University President Peter Salovey
(October 29, 2014, Beijing) Today, the SOHO China Foundation announces the signing of a gift agreement with Yale University endowing USD 10 million in "SOHO China Scholarships". SOHO China Chairman Pan Shiyi and Yale University President Peter Salovey signed the USD 10 million gift agreement at Wangjing SOHO in Beijing today.
The SOHO China Scholarships is a USD 100 million initiative launched by the SOHO China Foundation to create financial aid for Chinese students to obtain undergraduate education at the world's top universities. "Every person's potential is like a hidden gem, and education is the tool that unlocks human potential. The SOHO China Scholarships aim to provide the best possible educational opportunities to the most outstanding students from Mainland China, enabling them to maximize their potential in their contribution to mankind," said SOHO China Chairman Pan Shiyi.
Yale University has longstanding ties with China. Yung Wing, China's first student to study in the United States, was matriculated at Yale in 1854. Yale was also the first university in the United States to teach the Chinese language. "This gift will help top Chinese national students access a Yale education today and for generations to come. The SOHO China Foundation's extraordinary generosity will encourage outstanding students from China to apply to Yale — and assure them, should they be admitted, that we will meet their full demonstrated need for financial support," said Yale University President Peter Salovey.
On the occasion of this signing with Yale University, the SOHO China Foundation urges China's top students to apply to leading international universities such as Harvard and Yale. These are schools with need-blind admissions policies that accept students regardless of socio-economic background, and provide need-based full financial for students who qualify.
The SOHO China Scholarships aim to actively raise public awareness about financial aid policies at top international universities, and encourage the best Chinese students to apply. SOHO China CEO Zhang Xin says, "If you get in to Yale, you do not have to worry about the financial burden, the SOHO China Scholarships will help provide you with financial aid."
Yale University is the second university to partner with the SOHO China Scholarships. In July 2014, the SOHO China Foundation signed a USD 15 million gift agreement with Harvard University to endow financial aid scholarships for Chinese undergraduate students there. The SOHO China Foundation will continue expand it efforts, seeking partnerships with other leading international universities.