News & Media
SOHO China Acquires Tianshan Road Project for RMB 2.1 billion, its 11th Project in Shanghai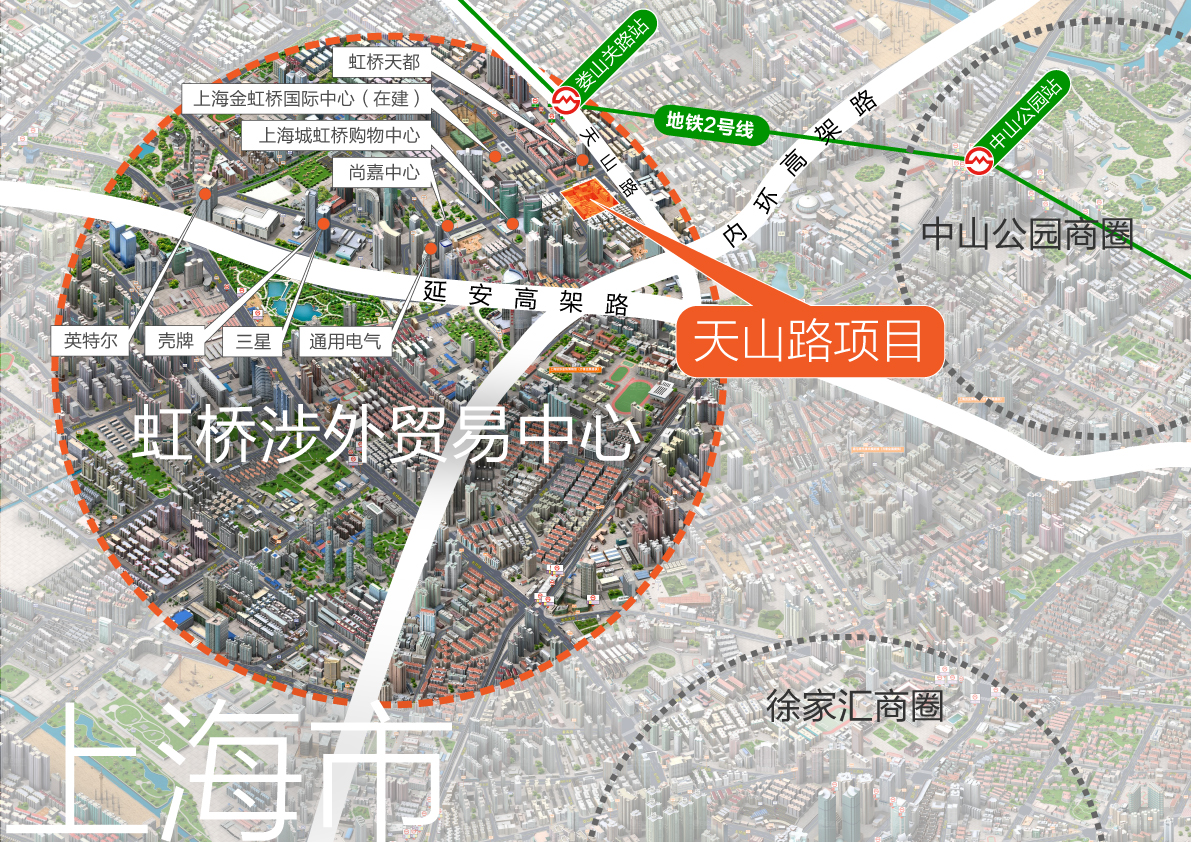 The Tianshan Road Project is located in the core area of the Hongqiao Foreign Trade Center
(2012, April 17, Beijing) SOHO China Limited (HK Stock Code: 410, hereafter referred to as "SOHO China" or the "Company") announced today, the signing of an agreement with Greentown Plaza Development Group Co. Ltd. and MaAnShan Hualong Real Estate Development Co. Ltd., to acquire 100% interest of Shanghai Greentown Plaza Development Co. Ltd. for a value of approximately RMB 2.138 billion, thereby acquiring the Neighborhood 98 Land on TianshanRoad in Shanghai's Changning District. The acquisition price includes RMB 2.081 billion for land price and deed taxand approximately RMB 56 million for previously incurred construction and other costs.
The Tianshan Road Project is for mixed commercial and office use with a total gross floor area of approximately 172, 208 square meters including 106, 441 square meters above ground.The project has52,911 square meters of office spaceand apartment styleoffice space, 37,517 square meters of hotel space and 16,991 square meters of commercial space.
The Tianshan Road Project is located in the core area of the Hongqiao Foreign Trade Center, in Shanghai's Changning District. The area is a hub for multinational companies and organizations, and is Shanghai's first CBD for foreign enterprises, home to over 4,400 companies and organizations over 50% of which are foreign invested enterprises including Intel, GE, Samsung, Shell, and other multinational enterprises. It is surrounded by a vibrant commercial atmosphere, prominent commercial towers including HongqiaoTiandu, Shanghai City Hongqiao Shopping Center andShanghai Golden Honqiao Center (under construction).TheZhongshan Park Commercial Area and XujiahuiCommercialArea are only a short distance away as well. Additionally, "L'Avenue", invested bythe LVMH and others, has just been completed in this area.Upon completion, theTianshan Road Project, along with L'Avenue, will largely elevate the level of commercial and office space in this district.
The Tianshan Road Project is located in close proximity to Tianshan Lu Commercial Street, the area is highly accessibly with Subway Line 2's LouGuanShan Station and the Inner Circle Line less than 300 meters away. These ideal transportation conditions will make Tianshan Road a prominent avenue in Changning District. The Project is only seven kilometers away from Hongqiao Airport, only 15 minutes away by car.
The acquisition of the Tianshan Road Project adheres to the SOHO China's strategy of acquiring high end retail properties in the most central and accessible areas of Beijing and Shanghai. This is SOHO China's eleventh project acquired in Shanghai since the Company entered the Shanghai market in August 2009, and the Company's second Shanghai acquisition in 2012. Over the last two years, SOHO China completed its extension intoShanghai's prime commercial districts including Nanjing West Road, the Bund, Hongqiao Transportation Hub, XuJiaHui, and Pudong, and accumulating a total acquisition value reaching approximately RMB 25.5 billion.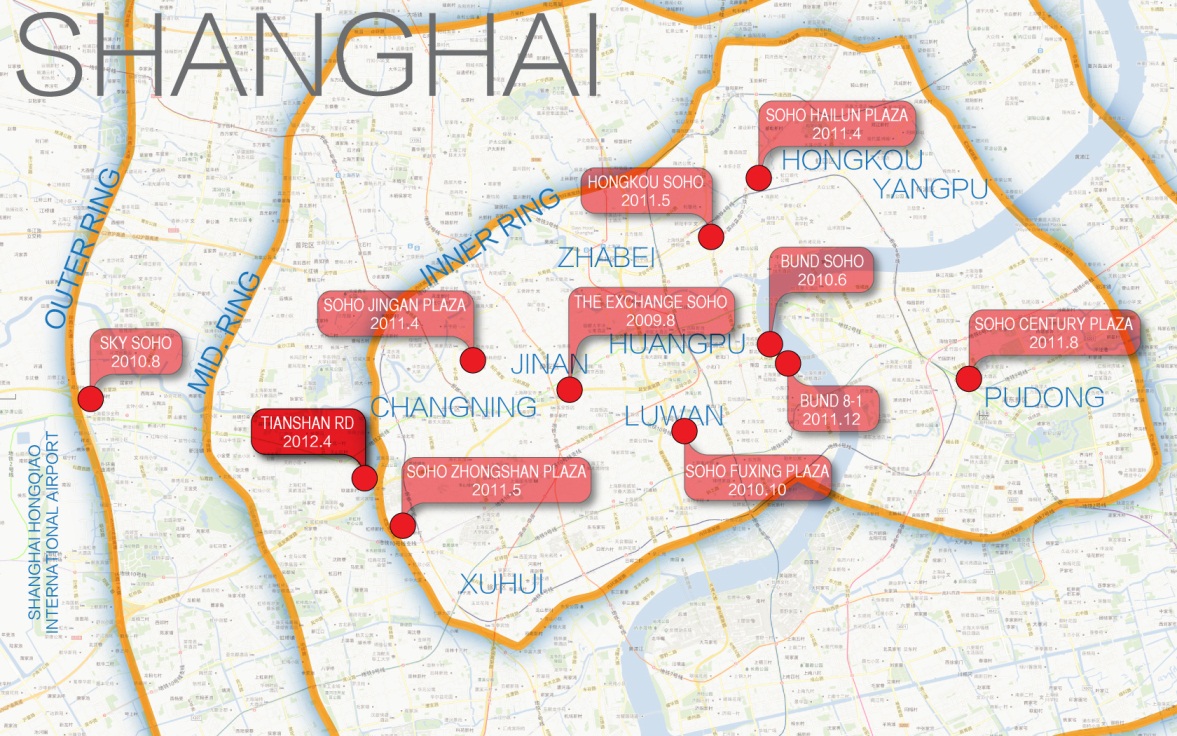 The Tianshan Road Project is SOHO China's eleventh project acquired in Shanghai
Under the impact of the purchasing restrictions policy, credit tightening by the banks and other severe macro-controls, 2011 presented unprecedented challenges to the property market bringing the residential market to an all time low. However, from the perspective of the rental market, the market demand for commercial property has continued to be exceptionally strong. According to market data presented by CB Richard Ellis, rental yields in Shanghai rose by 16.9% in the fourth quarter of 2011, boosting rental levels to their highest yet. Similarly, occupation rates have experienced a sharp rise with prime office locations in Shanghai filled to capacity and engendering the lowest vacancy rates to date.
Facing burgeoning market demand and very limited supply, particularly for very limited office space available for sale, SOHO China is confident about its optimistic outlook forthe office space market in Shanghai.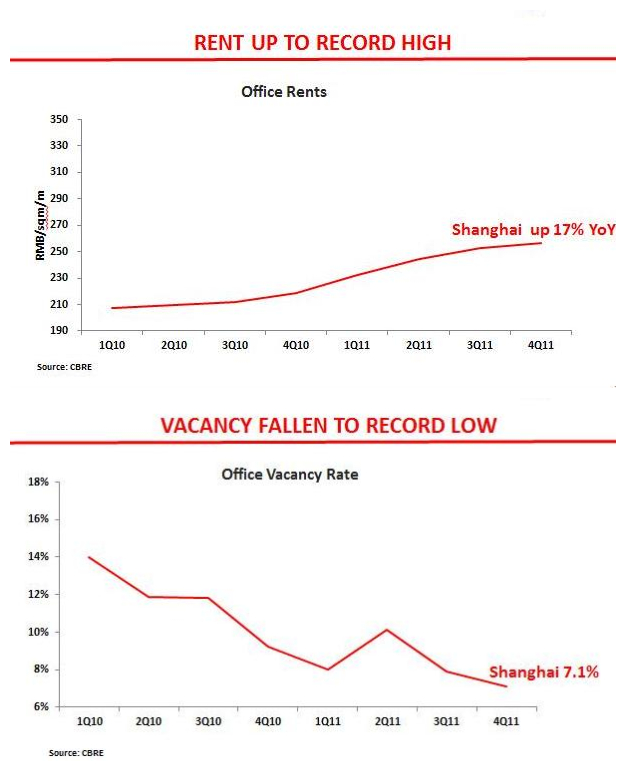 SOHO China Chairman Pan Shiyi says, "The bank's credit tightening has created a special acquisition opportunity for cash rich SOHO China.This is SOHO China's second acquisition of the year, and upon its completion, we still have RMB 12.5 billion cash in hand. We will continue to pay close attention to the Beijing, Shanghai and first tier city real estate markets for centrally located commercial properties with the aim of fulfilling this year's annual acquisition goal of RMB 10 billion."
About SOHO China
Founded in 1995, SOHO China is the industry leader in developing high-profile branded commercial properties in China's leading cities like Beijing and Shanghai. Presently the largest real estate developer in Beijing, the Company collaborates with internationally recognized architects, translating their innovative designs into iconic real estate which possesses strong appeal to property investors, and the local businesses and customer bases which they serve. On 8 October 2007, SOHO China was successfully listed on the Stock Exchange of Hong Kong as the largest IPO for commercial real estate developers in Asia. The Company was named as one of the "Most Admired Companies" in China by Fortune (China) Magazine from 2006 to 2010.
Further questions, please contact:
SOHO China Ltd.
Chunlei Wang
Tel:(86) 10 5878 8326
Email
:wangchunlei@sohochina.com
Linran Yang
Tel:(86) 10 5878 8598
Email
:yanglinran@sohochina.com